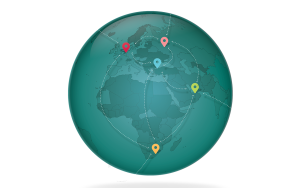 Dear Business Partner,
We are delighted to welcome you to the beautiful city of Lisbon for our Ricoh Emerging Markets Group EMEA conference of 2015.
Every time we watch or read the news, one thing always confronts us: change. Change has always been a constant factor in life, and now the process of transformation is happening faster than ever before. New technologies, new habits, new generations: what are our answers to all these? Do we see the new as an opportunity that we can seize? Do we make pro-active choices and take rapid action on them? Or are we caught off guard, allowing the competition to take over.
Our corporate tagline is imagine. change. We choose to approach change as an opportunity, so we are dedicated to building future-proof businesses. In 2036, when Ricoh will be 100 years old, we will still play a role as a corporate citizen of the world. Our products and solutions will be different, answering new global challenges.
Over the coming days, we will take you on a journey of inspiration, highlighting best practices and tools you need to remain ahead of the competition. Together we will explore topics such as vertical innovation propositions, our Preferred Partner Network, and business planning and transformation, in order to inspire and prepare you for the Ricoh Service Lines. We would like to invite you not to be just an observer, but an active participant, providing us with your input and feedback along the way.
Will you join us in taking advantage of the process of change, creating new businesses that are ready for tomorrow? Plan. Build. Run. Let's do it together to change our businesses and expand our sales.
Relive the Business Partner Conferences in Stresa and Munich: